PrintabiliTees LLC
PrintabiliTees is a full service marketing company that provides screen printing, embroidery, large format document printing and promotional products. PrintabiliTees provides clients with incremental benefits which includes consumer marketing expertise, unique branded products and an on-line automated ordering system available 24-hour a day everyday. PrintabiliTees' expertise, affiliations and partnerships results in a wide selection of quality products, competitive pricing and the most current products. The owner has over 27 years of consumer marketing and sales experience resulting in PrintabiliTees being uniquely positioned to provide incremental benefits and guaranteed results.

Value added services provided by PrintabiliTees include:
- Consumer Marketing Expertise
- 24-hour Everyday On-line Automated Ordering and Catalog
- Warehousing Capabilities
- Print-On-Demand
- 24-hour Turnaround on Many Promotional Items



PrintabiliTees, LLC is certified by WBENC, NMSDC and DOT.
Featured Item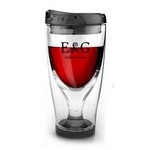 Chill Vino 2 Go Wine Tumbler
Chill your wine in the actual cup while you are sipping! It will keep your wine at the perfect temperature even on a hot sunny day. perfect for all occasions. Great for back yard, balcony, porch, BBQ,...

Signature Showrooms